Body Shop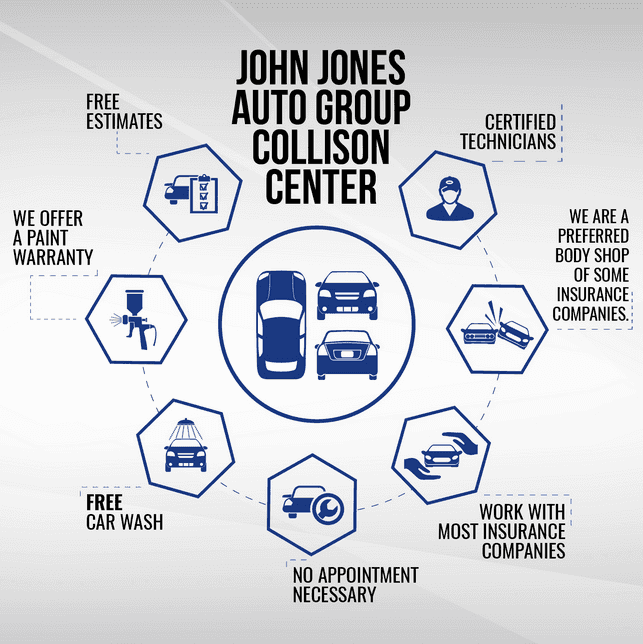 Being involved in an accident, no matter how serious, is an extremely stressful time in your life. That feeling only multiplies if your car needs any kind of bodywork afterward. Allow us to take some of the stress off your shoulders and put our expert technicians here at our John Jones Chrysler Dodge Jeep Ram FIAT collision center serving Southern Indiana.
Our Corydon, IN, collision center is open six days per week, 7:30 a.m. to 6 p.m. Monday through Friday and then 8 a.m. to 1 p.m. on Saturday, and is always ready and willing to help you out! Our well-staffed center will see your vehicle through the entire process, from initial work right down to cleaning it up before you come in. We just want to see you happy and your vehicle leave our shop like it's brand new!
We Want You To Be Happy
Our Southern Indiana area collision center is dedicated to the happiness of our customers. We understand that when your vehicle is damaged, to whatever extent it's damaged, it's a frustrating time. Our state-of-the-art collision facility is stocked with a staff that's ready to provide you with friendly service and a smile at all times, as well as technicians who know the mechanical workings of your vehicle like they've been doing it their whole lives because they have.
We also provide our customers with the peace of mind in knowing that their vehicles are in extremely capable hands. Whether it's a simple fix to a dent in your bumper or your frame isn't the original shape it was when you bought the vehicle, we're here to rectify that!
Contact us for more information or come in and visit us near New Albany and Clarksville, IN, and get your car ready to get back on the road!